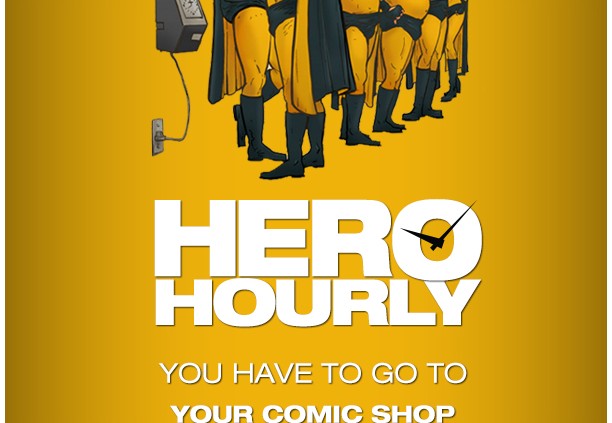 [vc_row][vc_column width="1/1″][vc_column_text]Their job sucks too.
Lousy pay, passive-aggressive bosses, and slashed benefits – our second book Hero Hourly is hitting comic shops in November and asking what it would be like if being a super hero were no better than any other job.
After the market tanks, Saul Smirkanski finds employment at Hero Hourly, a company that didn't ask if with great power comes great responsibility, but got a patent and a business loan so they could make a profit.
The 24-page first issue is by Batman and Harley Quinn writer James Patrick, 2000 AD artist Carlos Trigo, and Morning Glories colorist Alex Sollazzo. It can be ordered out of September Previews (#SEP151634) and will be in shops November 18th.
Check out the first few pages below, and be sure to order with #SEP151634 at your local comic shop!
[/vc_column_text][/vc_column][/vc_row][vc_row][vc_column width="1/1″][vc_images_carousel images="3557,3556,3550,3551,3553,3554,3555″ onclick="link_image" custom_links_target="_self" mode="horizontal" speed="5000″ slides_per_view="1″ img_size="medium"][/vc_column][/vc_row]
https://21pulp.com/wp-content/uploads/2015/09/hh_flyer3.jpg
892
612
superadmin
https://21pulp.com/wp-content/uploads/2021/08/21PULP_logo.png
superadmin
2015-09-16 13:47:59
2015-09-16 14:07:18
Order Hero Hourly Today!